Ova nedelja u forex trgovini – Jen u padu?
Nedelja za nama je bila ispunjena događajima, ali je budućnost ta o kojoj treba da brinemo – naročito ako naše pozicije uključuju Jen. S druge strane, izgleda da finansijska tržišta u globalu imaju novu zvezdu u usponu. Dženet Jelen je uzdignuta na status slavne osobe nakon njenih napora da se podigne Fed kamatna stopa – a sada i indeksi reaguju pozitivno na nju! Ali najpre, da vidimo šta rade veliki valutni parovi ove nedelje.
Nedelja za nama
EUR/USD: Od jučerašnjeg proboja kada je dostigao 1.1240, Evro se vratio u rutinu. Nikoga nije iznenadilo to što nema značajnijih pritisaka nadole – najniža tačka je bila u sredu kada je pao na 1.1119. Zato je potez ispod 1.1100 skoro nemoguć u bližoj budućnosti, osim ako se ne desi nešto veliko. Sada najverovatnije gledamo u raspon od 1.1120/1.1290 i to na duže staze. Makar par nedelja.
GBP/USD: U četvrtak je momenat opao pa je svako ko je uzeo profit na 1.3035 ili vrlo pametan ili vrlo srećan. Nakon toga funta je ojačala ali rizik od kratkoročnog pada i dalje postoji. Zapravo, čak i proboj iznad 1.3120 ne bi trebalo nikoga da iznenadi u narednim danima. Osim ako funta ostane ispod 1.3035 što bi takođe moglo da se desi.
AUD/USD: The australijska valuta je prošla kroz svašta u zadnjih par dana – pala je i na 0.7443 u jednom trenutku a ta teška vremena su potrajala duže nego što je iko očekivao. Ako tražite znake oporavka, sačekajte da zatvori iznad 0.7675. Zona jakog otpora je između 0.7740 i 0.7760 – iznad toga sigurno neće, bar u narednom periodu.
NZD/USD: NZD je juče brzo narastao na 0.7374 ali to ne znači da treba da čekate da dođe na 0.7485 jer bi moglo da potraje. Gledamo u novi opseg, najverovatnije između 0.7240 i 0.7380.
USD/JPY: Prognoze za američku valutu nisu dobre u celini, ali je i pored toga ovaj par prodavan isuviše u zadnje vreme. Pa ipak, kako Jen jača verovatno će dostići i 99.50/55 pre nego što krene da slabi. Ako hoćete da potvrdite kratkoročni nizak nivo, čekajte potez iznad 101.50.
Izvor: eFX News
Forex Prognoza:
EUR/USD: Neutralna: Opseg 1.1120/1.1290.
GBP/USD: Bearish i dalje: Moguć kratkoročan pad.
AUD/USD: Neutralna ili Bullish (samo ako zatvori iznad 0.7675)
NZD/USD: Neutralna: opseg 0.7240/0.7380.
USD/JPY: Bearish, ali pre toga može dostići 99.50/55.
Izvor: eFX News
Yen će pasti – i to namerno?
U poslednje vreme, par japanskih zvaničnika je upozorilo da će država reagovati da spase izvoznike od jakog Jena koji im kvari profit. Pošto je Fed odbio da podigne kamatnu stopu, svi su krenuli da se fokusiraju na Jen, pa mu je cena skočila.
Yošihide Suga je najavio nove mere ako se trend nastavi, pa je pad u skorije vreme izvestan. Pošto japanskim kompanijama pogoduje slaba valuta, verovatno će se njihov pritisak na vladu Japana na kraju isplatiti.
Izvor: Business Times
Link: http://www.businesstimes.com.sg/banking-finance/yen-dips-as-japan-officials-warn-over-units-strength
Yellen za predsednicu?
Kako stvari stoje, da se Dženet Jelen kandiduje za predsednicu, Vol Strit bi je pre podržao nego Hilari ili Trampa. U četvrtak su i Dow i S&P 500 porasli u mesecu kada kao po pravilu u normalnim uslovima padaju. Za Jelen se veruje da zagovara stav da kamatnu stopu treba povećati, ali se ostatak Fed-a s tim baš i ne slaže, kako stvari stoje.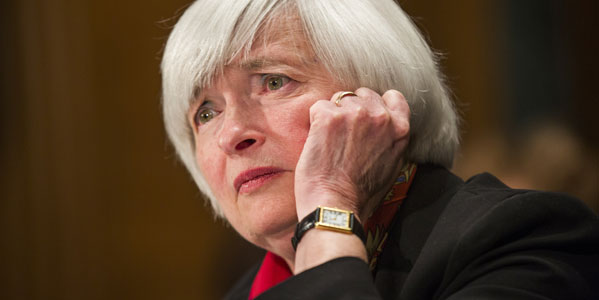 Pa ipak, postepena povećanja bi mogla uslediti u naredne dve godine, a ovo je upravo to što su investitori želeli da čuju. Kao stabilizator tržišta, ova izjava je bila efikasnija od bilo koje druge. Ni Tramp ni Hilari se ne bi protivili ostatku Fed-a i rado bi ih pustili da rade kako oni žele, pa to pokazuje bolje nego išta drugo kako prava osoba na pravom mestu vredi više od bilo kakve partijske politike.
Izvor: CNN Money
Forex podsednik: nedelja pred nama
PON
07:30 JPY BOJ Kuroda govori u Osaki
10:00 EUR German IFO – Business Climate (SEP)
10:00 EUR German IFO – Current Assessment (SEP)
10:00 EUR German IFO – Expectations (SEP)
10:00 CHF Total Sight Deposits (SEP 23)
10:30 GBP BBA Loans for House Purchase (AUG)
12:00 GBP CBI Total Dist. Reported Sales (SEP)
16:00 USD New Home Sales (AUG)
16:00 USD New Home Sales (MoM) (AUG)
UTO
EUR German Retail Sales (MoM) (AUG)
EUR German Retail Sales (YoY) (AUG)
01:50 JPY Corporate Service Price (YoY) (AUG)
01:50 JPY BOJ Minutes of July 28-29 Meeting
03:30 CNY Industrial Profits (YoY) (AUG)
15:00 USD S&P CoreLogic CS US HPI (MoM) SA (JUL)
15:00 USD S&P/Case-Shiller Home Price Index (JUL)
15:00 USD S&P CoreLogic CS 20-City MoM SA (JUL)
15:00 USD S&P/Case-Shiller Composite-20 (YoY) (JUL)
15:00 USD S&P/Case-Shiller US Home Price Index (JUL)
15:00 USD S&P/Case-Shiller US Home Price Index (YoY) (JUL)
15:45 USD Markit US Services PMI (SEP P)
15:45 USD Markit US Composite PMI (SEP P)
16:00 USD Consumer Confidence (SEP)
SRE
GBP Nationwide House Prices n.s.a. (YoY) (SEP)
GBP Nationwide House Prices s.a. (MoM) (SEP)
07:00 JPY Small Business Confidence (SEP)
08:00 EUR German GfK Consumer Confidence Survey (OCT)
08:00 CHF UBS Consumption Indicator (AUG)
09:00 CHF KOF Leading Indicator (SEP)
13:00 USD MBA Mortgage Applications (SEP 23)
14:30 USD Durable Goods Orders (AUG P)
14:30 USD Durables Ex Transportation (AUG P)
14:30 USD Cap Goods Orders Nondef Ex Air (AUG P)
14:30 USD Cap Goods Ship Nondef Ex Air (AUG P)
16:30 USD DOE U.S. Crude Oil Inventories (SEP 23)
16:30 USD DOE Cushing OK Crude Inventory (SEP 23)
16:30 USD DOE U.S. Gasoline Inventories (SEP 23)
16:30 USD DOE U.S. Distillate Inventory (SEP 23)
ČET
01:50 JPY Retail Trade (YoY) (AUG)
01:50 JPY Retail Trade s.a. (MoM) (AUG)
01:50 JPY Large Retailers' Sales (AUG)
01:50 JPY Japan Buying Foreign Bonds (Yen) (SEP 23)
01:50 JPY Japan Buying Foreign Stocks (Yen) (SEP 23)
01:50 JPY Foreign Buying Japan Bonds (Yen) (SEP 23)
01:50 JPY Foreign Buying Japan Stocks (Yen) (SEP 23)
08:35 JPY Kuroda Speaks at Security Association Conference
09:55 EUR German Unemployment Change (SEP)
09:55 EUR German Unemployment Rate s.a. (SEP)
10:00 EUR Bank of Finland Governor Liikanen Briefing on Monetary Policy
10:30 GBP Net Consumer Credit (AUG)
10:30 GBP Net Lending Sec. on Dwellings (AUG)
10:30 GBP Mortgage Approvals (AUG)
10:30 GBP M4 Money Supply (MoM) (AUG)
10:30 GBP M4 Money Supply (YoY) (AUG)
10:30 GBP M4 Ex IOFCs 3M Annualised (AUG)
11:00 EUR Euro-Zone Economic Confidence (SEP)
14:00 EUR German Consumer Price Index (MoM) (SEP P)
14:00 EUR German Consumer Price Index (YoY) (SEP P)
14:30 USD Advance Goods Trade Balance (AUG)
14:30 USD Wholesale Inventories (AUG P)
14:30 USD Gross Domestic Product (Annualized) (2Q T)
14:30 USD Personal Consumption (2Q T)
14:30 USD Gross Domestic Product Price Index (2Q T)
14:30 USD Core Personal Consumption Expenditure (QoQ) (2Q T)
14:30 USD Initial Jobless Claims (SEP 24)
14:30 USD Continuing Claims (SEP 17)
14:50 USD Fed's Lockhart Speaks to the Future of Florida Forum
22:00 USD Yellen addresses minority banking conference via video link
23:45 NZD Building Permits (MoM) (AUG)
PET
01:01 GBP GfK Consumer Confidence Survey (SEP)
01:30 JPY Jobless Rate (AUG)
01:30 JPY Job-To-Applicant Ratio (AUG)
01:30 JPY Household Spending (YoY) (AUG)
01:30 JPY National Consumer Price Index (YoY) (AUG)
01:30 JPY National Consumer Price Index Ex-Fresh Food (YoY) (AUG)
01:30 JPY National Consumer Price Index Ex Food, Energy (YoY) (AUG)
01:50 JPY BOJ Summary of Opinions at Sept.20-21 Meeting
01:50 JPY Industrial Production (MoM) (AUG P)
01:50 JPY Industrial Production (YoY) (AUG P)
03:00 CNY Manufacturing PMI (SEP)
03:00 CNY Non-manufacturing PMI (SEP)
03:30 AUD Private Sector Credit (YoY) (AUG)
03:45 CNY Caixin China PMI Mfg (SEP)
07:00 JPY Housing Starts (YoY) (AUG)
07:00 JPY Annualized Housing Starts (AUG)
10:30 GBP Gross Domestic Product (QoQ) (2Q F)
10:30 GBP Gross Domestic Product (YoY) (2Q F)
11:00 EUR Euro-Zone Unemployment Rate (AUG)
11:00 EUR Euro-Zone Consumer Price Index Estimate (YoY) (SEP)
11:00 EUR Euro-Zone Consumer Price Index – Core (YoY) (SEP A)
14:30 USD Personal Income (AUG)
14:30 CAD Gross Domestic Product (MoM) (JUL)
14:30 USD Personal Spending (AUG)
14:30 CAD Gross Domestic Product (YoY) (JUL)
14:30 USD Real Personal Spending (AUG)
Izvor: Daily FX