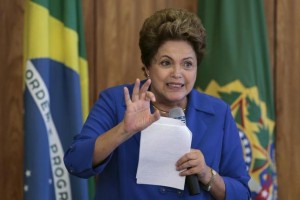 The President of Brazil, Dilma Rousseff promised her people that the government would do everything they can, even the impossible, to bring some stability in the country after the inflation rate went high. The prices at the moment are really up there, and Rousseff is in a difficult position.
The "temporarily difficult" economic situation in Brazil could last a lot longer though. "We must conclude our fiscal adjustment plan over the next few days in order to come out of this" – said President Rousseff for Globo TV broadcast."This inflation is one of the worst things, because it doesn't seem like such a big and scary situation at the moment, but it could be. Even worse, it affects the lives of the common Brazilian people every day. It is a situation that worries me a lot. It is temporarily I hope, but still…" – she added.
The consumer inflation is on its eleven year top at the moment, with 8.47 percent. Analysts agree that the situation could get even worse, because of the pressure from the monetary policy campaign, judged to be pretty aggressive. Bigger acceleration of the inflation could ruin Brazil's economy and its growth.
The Central Bank has a plan to raise even more the benchmark Selic rate in the next couple of months, in order to bring the inflation back to a 4.5 percent level till the end of the next year. There is only one problem they need to go around, and that is the fact that Brazil is already at 13.75 percent, the highest since the beginning of 2009 year.
President Rousseff ended the interview repeating the same promise that they will do everything they can in order for Brazil to have a stable inflation rate, but that the people must remember that some things are not in the country's government's hands.