The week behind us has seen quite a few events, but it is the future that we need to warn about – especially with positions involving the Japanese Yen. On a more different note, it seems that financial markets in general have a star on the rise: Janet Yellen is becoming quite a celebrity after her push for hiking the Fed rate – now even indices are responding well to her! But first, let's see how the major currency pairs have been doing.
The Week Behind Us:
EUR/USD: Ever since yesterday's breach when it reached 1.1240, EUR has returned to its usual routine. Nobody is really surprised that nothing is pushing it down in a consistent manner – the lowest point was on Wednesday when it fell to 1.1119. This is why a move below 1.1100 is extremely unlikely in the near future, unless something extraordinary happens. Now we are looking at a 1.1120/1.1290 range in the long run – at least a couple of weeks.
GBP/USD: Thursday saw the end of a momentum so anyone who took profit at 1.3035 was extremely lucky – or knowledgeable. After that, GBP strengthened up, but there is still a risk of a short-term low. In fact, even breaking above the 1.3120 is not going to be that shocking in the next few days. Unless the pound stays under 1.3035 which could also happen.
AUD/USD: The Australian currency has seen some rough times last week, falling as low as 0.7443 and this rough patch lasted more than anyone really expected. For signs of recovery, best wait until it closes above 0.7675 in order to confirm the rising trend. The major resistance zone is 0.7740/60 and it should not get stronger than that, at least not anytime soon.
NZD/USD: NZD saw a quick rise yesterday to 0.7374 but that does not mean you should hold your breath waiting for 0.7485. We are most likely looking at a new range, 0.7240 and 0.7380 in all likelihood.
USD/JPY: The outlook on US currency did turn bearish on the whole, but the recently the pair has been extremely oversold. Still, at this rate we cannot rule out going as low as 99.50/55. If you want to confirm a short-term low, wait for a move above 101.50.
Source: eFX News
Forex Forecast for Major Pairs:
EUR/USD: Neutral: The range is 1.1120/1.1290.
GBP/USD: Bearish still: Possible short-term low.
AUD/USD: Neutral or Bullish (only if it closes above 0.7675)
NZD/USD: Neutral: 0.7240/0.7380 range.
USD/JPY: Bearish, but it could extend to 99.50/55.
Source: eFX News
The Yen Takes a Fall – on Purpose?
Recently, many Japanese officials announced they could step in to save the exporters from a strong Yen that is ruining their profits. Since Fed declined to raise the interest rates, everybody started focusing toward the Yen, which drove the prices in turn.
Yoshihide Suga announced new measures if this trend continues, so it is certain that a fall in value is about to happen. Since the Japanese companies favor a weak domestic currency, it is likely that the pressure they are mounting on the government will pay off.
Source: Business Times
Yellen for President?
The way things are, if Janet Yellen runs for president, she might get a bunch of votes from Wall Street traders, and anyone interested in currencies and indices alike: on Thursday both the Dow and S&P 500 went positive in a month that is traditionally against either of them. Yellen is believed to advocate a stance for interest rate hike, but the rest of the Fed begs to differ for the time being.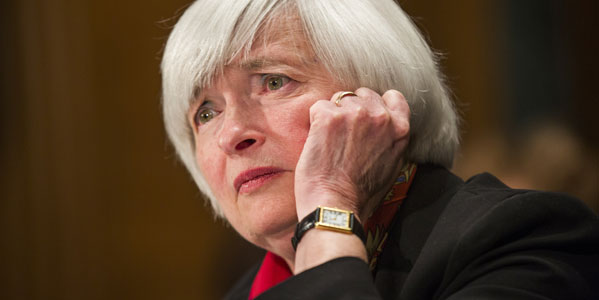 Still, gradual hikes might be possible over the course of the next two years. This is exactly what the investors needed to hear and it made for a more effective market stabilizer than anything anyone else could have done. Neither Trump nor Hillary would have raised as much fuss about any of this, and it just goes to show you that the right person for the job is better than any misguided party allegiance.
Source: CNN Money
Forex Reminder: The Upcoming Week
MON
07:30 JPY BOJ Kuroda makes a speech in Osaka
10:00 EUR German IFO – Business Climate (SEP)
10:00 EUR German IFO – Current Assessment (SEP)
10:00 EUR German IFO – Expectations (SEP)
10:00 CHF Total Sight Deposits (SEP 23)
10:30 GBP BBA Loans for House Purchase (AUG)
12:00 GBP CBI Total Dist. Reported Sales (SEP)
16:00 USD New Home Sales (AUG)
16:00 USD New Home Sales (MoM) (AUG)
TUE
EUR German Retail Sales (MoM) (AUG)
EUR German Retail Sales (YoY) (AUG)
01:50 JPY Corporate Service Price (YoY) (AUG)
01:50 JPY BOJ Minutes of July 28-29 Meeting
03:30 CNY Industrial Profits (YoY) (AUG)
15:00 USD S&P CoreLogic CS US HPI (MoM) SA (JUL)
15:00 USD S&P/Case-Shiller Home Price Index (JUL)
15:00 USD S&P CoreLogic CS 20-City MoM SA (JUL)
15:00 USD S&P/Case-Shiller Composite-20 (YoY) (JUL)
15:00 USD S&P/Case-Shiller US Home Price Index (JUL)
15:00 USD S&P/Case-Shiller US Home Price Index (YoY) (JUL)
15:45 USD Markit US Services PMI (SEP P)
15:45 USD Markit US Composite PMI (SEP P)
16:00 USD Consumer Confidence (SEP)
WED
GBP Nationwide House Prices n.s.a. (YoY) (SEP)
GBP Nationwide House Prices s.a. (MoM) (SEP)
07:00 JPY Small Business Confidence (SEP)
08:00 EUR German GfK Consumer Confidence Survey (OCT)
08:00 CHF UBS Consumption Indicator (AUG)
09:00 CHF KOF Leading Indicator (SEP)
13:00 USD MBA Mortgage Applications (SEP 23)
14:30 USD Durable Goods Orders (AUG P)
14:30 USD Durables Ex Transportation (AUG P)
14:30 USD Cap Goods Orders Nondef Ex Air (AUG P)
14:30 USD Cap Goods Ship Nondef Ex Air (AUG P)
16:30 USD DOE U.S. Crude Oil Inventories (SEP 23)
16:30 USD DOE Cushing OK Crude Inventory (SEP 23)
16:30 USD DOE U.S. Gasoline Inventories (SEP 23)
16:30 USD DOE U.S. Distillate Inventory (SEP 23)
THU
01:50 JPY Retail Trade (YoY) (AUG)
01:50 JPY Retail Trade s.a. (MoM) (AUG)
01:50 JPY Large Retailers' Sales (AUG)
01:50 JPY Japan Buying Foreign Bonds (Yen) (SEP 23)
01:50 JPY Japan Buying Foreign Stocks (Yen) (SEP 23)
01:50 JPY Foreign Buying Japan Bonds (Yen) (SEP 23)
01:50 JPY Foreign Buying Japan Stocks (Yen) (SEP 23)
08:35 JPY Kuroda Speaks at Security Association Conference
09:55 EUR German Unemployment Change (SEP)
09:55 EUR German Unemployment Rate s.a. (SEP)
10:00 EUR Bank of Finland Governor Liikanen Briefing on Monetary Policy
10:30 GBP Net Consumer Credit (AUG)
10:30 GBP Net Lending Sec. on Dwellings (AUG)
10:30 GBP Mortgage Approvals (AUG)
10:30 GBP M4 Money Supply (MoM) (AUG)
10:30 GBP M4 Money Supply (YoY) (AUG)
10:30 GBP M4 Ex IOFCs 3M Annualised (AUG)
11:00 EUR Euro-Zone Economic Confidence (SEP)
14:00 EUR German Consumer Price Index (MoM) (SEP P)
14:00 EUR German Consumer Price Index (YoY) (SEP P)
14:30 USD Advance Goods Trade Balance (AUG)
14:30 USD Wholesale Inventories (AUG P)
14:30 USD Gross Domestic Product (Annualized) (2Q T)
14:30 USD Personal Consumption (2Q T)
14:30 USD Gross Domestic Product Price Index (2Q T)
14:30 USD Core Personal Consumption Expenditure (QoQ) (2Q T)
14:30 USD Initial Jobless Claims (SEP 24)
14:30 USD Continuing Claims (SEP 17)
14:50 USD Fed's Lockhart Speaks to the Future of Florida Forum
22:00 USD Yellen addresses minority banking conference via video link
23:45 NZD Building Permits (MoM) (AUG)
FRI
01:01 GBP GfK Consumer Confidence Survey (SEP)
01:30 JPY Jobless Rate (AUG)
01:30 JPY Job-To-Applicant Ratio (AUG)
01:30 JPY Household Spending (YoY) (AUG)
01:30 JPY National Consumer Price Index (YoY) (AUG)
01:30 JPY National Consumer Price Index Ex-Fresh Food (YoY) (AUG)
01:30 JPY National Consumer Price Index Ex Food, Energy (YoY) (AUG)
01:50 JPY BOJ Summary of Opinions at Sept.20-21 Meeting
01:50 JPY Industrial Production (MoM) (AUG P)
01:50 JPY Industrial Production (YoY) (AUG P)
03:00 CNY Manufacturing PMI (SEP)
03:00 CNY Non-manufacturing PMI (SEP)
03:30 AUD Private Sector Credit (YoY) (AUG)
03:45 CNY Caixin China PMI Mfg (SEP)
07:00 JPY Housing Starts (YoY) (AUG)
07:00 JPY Annualized Housing Starts (AUG)
10:30 GBP Gross Domestic Product (QoQ) (2Q F)
10:30 GBP Gross Domestic Product (YoY) (2Q F)
11:00 EUR Euro-Zone Unemployment Rate (AUG)
11:00 EUR Euro-Zone Consumer Price Index Estimate (YoY) (SEP)
11:00 EUR Euro-Zone Consumer Price Index – Core (YoY) (SEP A)
14:30 USD Personal Income (AUG)
14:30 CAD Gross Domestic Product (MoM) (JUL)
14:30 USD Personal Spending (AUG)
14:30 CAD Gross Domestic Product (YoY) (JUL)
14:30 USD Real Personal Spending (AUG)
Source: DailyFx